Perks of the new Trinity
True to its name the new AMD Trinity concentrates upon a trio of perks, these include power, performance, and cost.  Let's examine each of these.
Power:
As you can see in the above graphics AMD claims almost 12 hours of on time with the new AMD a 10–4600M while resting or idle.  While web browsing the new A-10–4600M achieves 8.5 hours of battery life.  Again these numbers are provided by AMD and we do not have a product in hand yet to test and verify these numbers. If true the A-10–4600M represents a significant advancement in the mobile marketplace and gives consumers high-end computing without sacrificing battery life and at the same time providing the option to users to have high-end graphics as well.  This again reinforces our reason why Intel should take the Trinity is a serious threat.
Performance:
Performance can be broken down with the Trinity into two  categories, computing performance, and graphics performance. Understanding this we provide to you the numbers and graphs provided to us by AMD. Note that the model of Trinity varies in some of these benchmarks provided and not all of these models will be found in notebooks.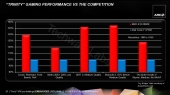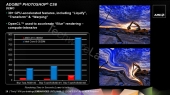 Graphics Performance Compared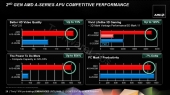 Computing Performance Compared
AMD accomplishes these performance improvements in a number of ways, with CPU and GPU frequency increases, with the migration to the new piledriver core, and the migration to a new GPU architecture.
Cost:
The cost savings for the consumer when purchasing a Trinity system over an equivalent Intel ultrabook are immediately clear. what is not clear is how AMD achieves these cost savings. These savings are achieved in a number of ways.  AMD has used an updated FCH which enables lower platform costs and brings with it integrated USB 3.0 ports and an integrated SD card reader.  additionally AMD beats out Intel and costs by not requiring manufacturers to include an SSD drive or limiting them to profile and thickness limitations for their notebook systems.  This allows OEM manufacturers to go with what they know will be cheaper solutions while still retaining creative flexibility over their product.  Essentially OEMs will have creative freedom to offer the AMD Trinity in high as well as low-end models.
For those OEMs that choose to include the  new AMD Trinity APU in ultrathin notebooks consumers are less likely to look at the CPU label and more likely to look at the price. In the end this will most certainly lead to sales for AMD from consumers who are looking for smaller and thinner systems while not breaking the bank. The only potential flaw in AMD's plan comes from the fact that they've given possibly too much creative freedom to OEMs and that some if not most OEMs may choose to offer of the Trinity in as cheap a system as possible sacrificing high fidelity and anesthetics for price tag.  This will lead to systems that consumers don't want to buy over their ultrabook competition from Intel.