Llano in-depth
Llano represents the combination of a Northbridge, Quad-core CPU, and a Directx 11 GPU on one die.  While this layout is quite similar to Intels SandyBridge design, Intel lacks the quality and performance of the GPU that AMD brings to the table. It remains to be seen if the Llano is the better chip both computationally as well as graphically.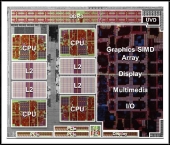 With this new chip comes some really outstanding features.
AMD Turbo Core technology dynamically adjusts the CPU and GPU cores according to load.  So if you're running an intensive computational application, the APU will pull Radeon cores to help take the load.  This feature maximizes performance allowing the user to smoothly change between GPU and CPU based applications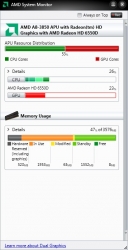 AMD Accelerated Parallel Processing
Dual Graphics (also known has Hybrid Crossfire) allows the user to put a Discrete Radeon card on the platform and use it in Crossfire.  This means both GPUs (One on the APU and the discrete) are both working on the graphics for 1 monitor (or Eyefinity, depending on setup).  This allows the APU to focus more on CPU threads.  During preliminary testing, AMD has come up with results from 3fps to 20 fps difference from just using the APU.  Below is a list of current supported configurations: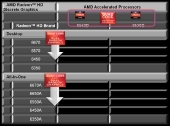 Overclocking
The chip we received is multiplier locked meaning I am unable to overclock via CPU-Multiplier.  The only way I am able to overclock is bus speeds which effectively overclocks the whole whole platform (Motherboard and RAM).  This leaves some things to be desired and shows that this APU, while a large leap in the correct direction from AMD, is still a young project.  Whether AMD has this locked in fear of power management (100w max) or as a re-brand release, Llano won't be considered by people looking to boost the performance of a stock rig until AMD unlocks these APUs.
AMD Vision Engine
With the release of this new generation of APU's, AMD has also upgraded their engine to the Vision Engine.  This engine has added upgrades to current technology in the fields of shader configurations (also called Radeon core usage) and Universal Video Decoder (UVD3).  While these are nice, their flagship accomplishment (and something I'm really looking forward to watching grow) is their image stabilization technology.  This will dynamically cut frames out of a shaky video (Home video for example) and display a cleaner video.  This currently does not support saving the "clean" file, only playback.  With that aside, it looks promising.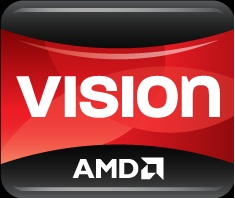 Powering these features is the APU.  Lets take a look at its specs:
Technology:32nm
Power Usage:100w
Cores:4 "Stars"
CPU Clock:2.9GHz
L2 Cache:4MB
Max RAM Speed:1866MHz
Graphics: 400 Radeon Cores, Directx 11, UVD3
Graphics features:AMD Dual Graphics (Hybrid Crossfire)
Graphics Ports:DVI-d, DP 1.1a, HDMI 1.4a
Graphics Clock:600Mhz
Max Compute Speed:480GFLOPS
Software Support:Windows 7, Windows Vista, Windows XP, Linux
A 2.9 Ghz clock on 4 cores is comparative to the performance you would receive out of a Phenom quad, so not much of a difference there from what AMD already offered.  However, a 400 core 600MHz clock on the GPU side is quite the step up from the SandyBridge onboard GPU.  Again, AMD is targeting the graphics lovers.  Not the computational speed lovers with this APU.  SandyBridge is meant to make Windows look pretty.  Llano is meant to make Windows look amazing and provide the media and gaming ability to the end user.
Lets move on to the benchmarks to see how this chip stacks up.