ASUS G75VW-DH72 Gaming Notebook

Introduction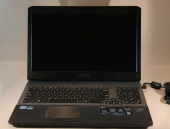 There are some laptops that are meant for ultimate portability, made of a few paper thin bits of silicon and glass with an aluminum shell wrapped around it. This is almost exactly the opposite of such a laptop. The ASUS G75VW-DH72, part of their Republic of Gamers line of notebooks, is a big, beastly machine promising to deliver big beastly performance. While a $1,999 MSRP isn't the most expensive I've seen in terms of gaming laptops, it's definitely in the upper reaches. The question is, does this machine deliver what it promises? Let's run it through its paces and find out.
A Closer Look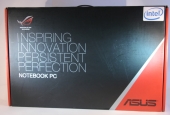 ASUS went with a fairly minimalist design here. The box doesn't tell you much about the notebook's features, but then again, nobody buys a $2,000 notebook on a whim.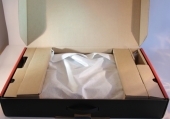 The notebook seems to be pretty firmly wedged in place with cardboard end-caps. The flaps to either side contained the transformer brick and power cable, so no flex there either. I wouldn't be worried about damage unless the package had some externally visible dents.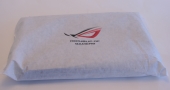 The Republic of Gamers logo on the cloth sleeve was a nice touch.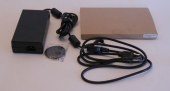 The accessories, which I found wedged to either side of and below the laptop itself, are fairly spartan. Power brick with AC cable, documentation packet, and…spare fan grille? I'll get to that below.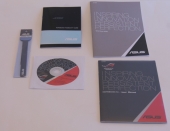 Inside the documentation packet, we have the user manual, a Windows 8 user guide, warranty card, a driver disc and a Velcro cable tie. Notably absent is any kind of OS install or system restore disc; the DVD they do include is drivers and utilities only. More on that below. The user manual for this system is disappointing; more than once I found references to features not present with this operating system or even this model of computer, and things I did want to know about, like touchpad settings adjustment, were not mentioned at all. The online documentation, which I expected to be more detailed, was just a PDF copy of the same sparse printed manual that was included with the packaging. The Windows 8 user guide was somewhat more helpful, but it still left out critical details like how to get to the Control Panel–a process that Microsoft has made unreasonably difficult. In fairness, though, this is a Microsoft issue and not an ASUS issue.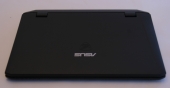 The first thing you'll notice about this notebook is the size. This is a very large, heavy notebook, made to appear more so by its aggressive lines. The pronounced wedge shape and the angular vent ports on the back put me in mind of a sports car or a fighter jet. This machine is meant to seem powerful, and it achieves that aesthetic quite well. The rubberized outer shell doesn't have quite the style appeal of the polished aluminum shells we've seen on other notebooks, but it provides a firmer grip–important with a notebook this heavy and we like the feel as well.

The lid has no latches or magnets to hold it closed, but given the weight of the screen, that's not likely to be an issue. The front edge lights up with a strip of small status LEDs: Power, Charge, HDD activity, Wireless on/off, Caps Lock and Num Lock.

On the left, we have two USB 3.0 ports, the optical drive, a SD card reader, and microphone and headphone ports. The audio ports are standard TRS plugs, so you'll need a splitter if you plan to use a smartphone headset.

On the right, we have two more USB 3.0 ports, one mini DisplayPort, one HDMI, Gigabit Ethernet, VGA, and the power plug. The VGA port lacks the usual threaded holes for the locking screws, so you'll need to be careful not to jiggle the plug loose. The power plug is solid, and there's no wiggle when the brick is plugged into it.

In a gaming laptop cooling is of paramount importance. As such the cooling solution deserves special mention here. Remember that fighter jet/sports car comparison I made up above? This is where it becomes the most pronounced. ASUS has actually gone for a rather ingenious approach on the cooler here: the intake is on the right in the image above, while the exhaust is on the left. This means that there are no intakes to speak of on the bottom, which renders a cooling pad useless. Ironically, this feature makes this beast of a notebook the first one I've had absolutely no qualms about using on my lap, even under fairly heavy loads. Aside from being lap-friendly, the cooler also does a stellar job at keeping system temperatures low. Not once did I have to stop gaming because of heat issues, even during a couple of 12-hour long LAN parties where breaks were few and far between.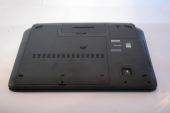 On the bottom, there are a few features of note besides the obvious battery and release latch:
First, there is no Windows product key sticker, here or anywhere else on the laptop or its accessories. This is actually going to be common on Windows 8 devices; most of them are going to be configured with a restore partition that already knows the product key and can restore the internal drives to factory condition. If your system drive goes belly up, there will be no restoring from a recovery disk. This makes taking regular, complete backups even more important than it already was. Again this is a Microsoft issue and not anything to do with ASUS. Did I mention my affinity for Windows 7 yet?
Second, note the large and small panels; we're going to be opening those up in a bit to see what's inside. There are no "warranty void if seal is removed" stickers or funny screw heads here; a standard #1 Phillips head will get you inside in seconds. It's clear ASUS was thinking of enthusiasts and gamers here; providing an easy way to maintain and customize your machine without fear of voiding your warranty. It is these kinds of features that set ASUS apart from the pack when it comes to gaming hardware.
Here's where things diverge somewhat from the majority of laptops. First and foremost, all of the screws are standard Phillips head, including the ones securing the motherboard to the frame. This is important, given that swapping out all of the RAM will involve pulling the motherboard out and flipping it over. This is less than ideal, but given the space constraints I can hardly fault them for it.
Second, the SSD and hard drive sleds are held in place by a solid-feeling slot-and-tongue system that is fixed in place by a pair of Phillips head screws each. This makes upgrading the drives later on down the road a simple task; major kudos to ASUS for that.
Second, note the small round grilles at the top corners. These are debris filters, and will do wonders for keeping the fans clean on this thing over the long haul. Major kudos to ASUS for making it easy to clean the fan.