Bang for your buck multi-monitor gaming goodness:
A great computer is like  a great car and a great car is far more than the sum of its parts. when buying a car most people don't spend much time on what type of tires or what type of transmission they are getting. A great graphics card is like a great set of tires something most people don't think of but adversely affects the performance. Because of the massive importance of a graphics card Techwarelabs is going to review the ATI HD 5550 a sweet little powerhouse in the 5XXX series that is the basis of all of ATI's  high end cards to currently on the market.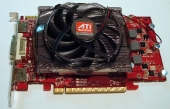 The low power multi-monitor gaming HD 5550
How we test:
We test with a variety of software products running both real world tests as well as the more traditional synthetic benchmarks. For the ATI HD 5550 we will be testing using Left 4 Dead 2, Dirt 2, and Battlefield Bad Company 2 all will be tested using 2 monitors at 3360X1050 resolution as well as a single monitor setup at 1440X900. For the synthetic bench marks we will be using Furmark 1.8, 3Dmark vantage and Unigine Heaven benchmark. All tests were performed on a clean system with no other process running except those required for windows.
Closer Look:
| | | | |
| --- | --- | --- | --- |
| | The HD 5550 employs a relatively small fan that should not make a lot of noise. | Ports on the card include Display port, DVI and HDMI. | |
Directly from the ATI for your viewing pleasure:
This particular ATI HD 5550 comes to us packing 512MB GDDR5 on board ram which comes in at 1000 MHz. The GPU core itself comes in at 500 MHz packing 320 shaders and full support for DirectX 11. All these features should be more than enough to satisfy any budget minded gamer looking to experiment with Eyefinity as well as more traditional single monitor setups.
Test System:
Down and dirty with the HD 5550: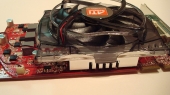 Center mount fan keeps the card cool.

One of the biggest things that I noticed right away when looking at this card is that unlike much of its competition there is no need for an additional power connector, the card can draw all the power it needs right from the motherboard. While this may not necessarily be the highlight of this card its nice to know that it can be put into a system that doesn't have a power supply on steroids.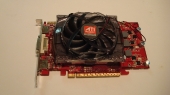 Take a close look at the rear of the card
and you will notice there is no power connector

The  fan that is prominent on the card is surprisingly quiet and will not be noticed if you have any other 180mm fans within the case. During my testing the fan kept the card at a fairly steady 36 degrees Celsius which while not frosty its certainly not a space heater like many cards out today.
Detailed card specs:
ATI HD 5550

GPU clock
550 MHz
Memory
512 MB GDDR5

Memory Speed
1000 MHz

Shaders
320 unified
Direct X support
11

Bus Interface
PCI-E 2.0 x16
A more detailed view from the catalyst control panel.

I took the liberty of cropping the pane so you can see all the info.
| | |
| --- | --- |
| A slightly different view from GPU-Z | |
Benchmark Testing and Analysis: