Introduction
With so many computer peripherals that are used today it is inevitable that wires are becoming cumbersome. Everyone is familiar with the pain of connecting and reconnecting all wires to your computer and than stashing in behind the table in hopes to never deal with it again. Perhaps one of more exciting trends in computer industry has been conversion of peripherals such as mouses, keyboards and HDTV tuners to wireless technology. It is almost inevitable that many more will follow this trend. What we have here is an Atlona AT-HDAir Wireless USB/HDMI adapter. At the core of it's purpose HDAir makes wireless screen possible. Now that's an exciting possibility. It is a wireless USB to HDMI adapter and it's something that showed up on the market only couple of months ago. Atlona is promising that this is their first step on the road to more wireless technology.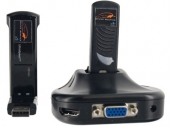 Atlona's take
The Atlona AT-HDAiR is designed to connect any Windows Based computer to either your HDTV or Computer Monitor wirelessly through VGA or HDMI Connections. The HDAiR is based on a powerful UWB technology, allowing users to extend high resolution content up to 30 feet away. Atlona adapter is capable of supporting resolutions up to 1400×1050 or 720p.

Whether wirelessly connected to a projector in a meeting room or to a flat TV screen in the living room, the Atlona HDAiR allows users to easily and conveniently extend their PC visual workspace. Providing both HDMI interface, common in flat TVs, and VGA interface, common in projectors and computer monitors—the HDAiR provides users with the flexibility. Both HDMI and VGA output connections are active at the same time, therefore HDAiR receiver could be used to power up 2 displays at the same time with identical content.

NOTE: HDMI Output will only transfer video signal. AT-HDAiR is not yet able to support Audio.
AT HDAir Specs and Features
Key Features:
HD TV or Projector Compatible
High Resolutions up to 1440×1050 or 720p
Extend computer from the display up to 30ft (10m)
Capable of Mirroring or Extending Display, Atlona suggests to use Extended mode for video playback
Standard and wide-screen aspect ratios (4:3 or 16:9)
Full room coverage with line of site and non-line of site
VGA & HDMI connectivity (DVI with additional adapter), both outputs are active at the same time to provide signal to up to 2 displays simultaneously
32-bit True Color depth for high quality images
Compatible with Windows Vista and XP
Quick and easy installation
Minimum PC Requirements:
CD-ROM Drive
Windows XP SP2 or Windows Vista SP1
One USB 2.0 port
512mb of Ram
Pentium 4
30 megabytes (MB) of free disk space
Technical Specifications:
Compatible with Windows XP and Vista
HDMI connector: Standard HDMI 19-pin female
VGA connector: Standard HD15 15-pin female
Gross Weight: 1lb.