The Backup Process
The backup process itself seemed to go somewhat slowly, and it did have an informative status window (normally minimized to the system tray) – but noticeably absent was an "estimated time remaining" entry. The agent also seemed to lock up several times on me, forcing me to restart the backup job; however, after letting it run once, it's possible that it was running in the background while the interface had stopped responding, and it was my own poking that caused it to stop responding.

I installed the agent on another computer to see how it would react and to see how well it spanned across multiple systems. After entering my account information, it logged me right in and led me to the wizards. As I mentioned before, I tried to skip the wizards to get to the Classic View, only to find most of the buttons and options disabled. But, after going through the wizard to run a first backup, not only did it work like a charm, but it brought up the data I had backed up from my first computer. It let me download the files from my desktop onto my laptop without complaint, a very handy feature for people with multiple computers.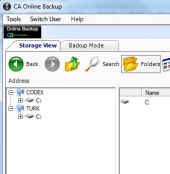 When selecting data to back up, CA provides a gauge at the bottom of the screen which counts the size of the data backup you have selected. This is especially useful when running the client on multiple computers, as both systems contribute to your backup limit. That limit is set based on the price you paid at account creation, which has pretty reasonable rates – considering that I couldn't find any small print stating it was an annual fee or other subscription service. $49.99 for 10GB of data backup isn't bad for entry level, and you can more than double that for another $10 at $59.99 for 25GB. You can increase your value by going for 100Gb at $149.99 at just $1.50 per GB, or 250GB at $374.99 at the same rate.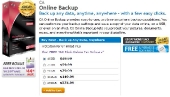 If you have multiple computers, the service becomes more valuable, especially when some of them are portable and go on travel while the desktop (and the bulk of your data) stays at home. Even if you don't back up anything on the laptop, you can install the client and access data from anywhere there's an internet connection (albeit a high-speed one).
Conclusion?
CA Online Backup provides a simple solution for the home user to back up their data, which gets more valuable the more computers you have. The simple client has some hiccups, but overall the product is easy to use and reasonably priced – much less than a portable hard drive with its included backup software, which you have to either have to leave plugged in or remember to attach when it's backup time. The automated schedule and version rollback features ensure that you won't lose data to being forgetful or missing a routine. Most home users won't need more than 25 or 50GB of storage for large amounts of family pictures and movies, leaving the larger 100 and 250GB options aimed more at the small business user. All in all, it's a product that delivers.