The Past
The world of Central Processing Units (CPUs) is an interesting one, driven largely by the competition between AMD and Intel and in some cases, Via.  It is strange to see how, over time, people's expectations of CPUs have changed.  In recent years it has become apparent that we will never be satisfied, that no processor is "fast enough".  As soon as a new processor is released, consumers find a way to push its limits, and this "need for speed" is what keeps companies like AMD and Intel going.  The interesting thing here is how the quest for speed, and the means of attaining it have changed over time.
Early in the game, the manufacturing technology was not a major driver of the change in processors, the focus was on the architecture.  The leading style for PC applications was x86, and the competition between AMD and Intel was to make the best x86 processor possible.  At the time, they didn't have the luxury of hundreds of billions of transistors per chip, they had to pick and choose their battles, and attempt to predict what would be most important to the consumer.
At that time, clock speed was what everyone looked for to determine the top CPU.  Intel's Pentium processor debuted with a clock speed of 66 MHz, which seems like nothing now, but was nearly triple that of its predecessor.  The emphasis on clock speed grew dramatically as Intel released its Pentium 2, 3, and 4 models at 300 MHz, 500 MHz, and 1.5 GHz respectively.  Now we are all so used to clock speeds in the Gigahertz range that we have forgotten how recently we broke that barrier.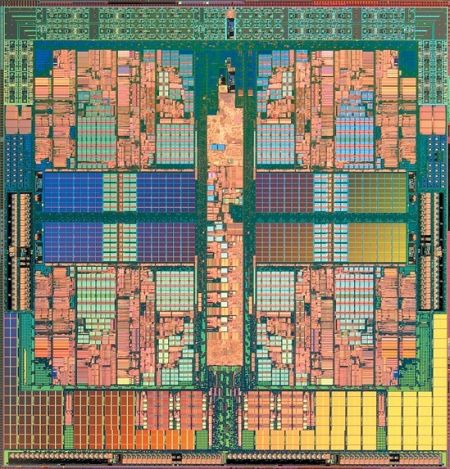 The Present
Now consumers not only want to do things fast, they want to do a lot of things fast, at once, and this has driven a change in the industry.  The processor had reached the point where its progression was beginning to slow, and the resolution was dual-core, allowing users to multitask much more efficiently.  Now we are seeing quad-core in desktop applications and significantly more cores in server applications.  The only way that this became possible was through major advances in process technology, by shrinking the size of the transistor, CPUs could have exponentially more of them.  This allows for not only more powerful cores, but for multiple cores to be included in one package.
Intel has been a major driver of process technology, largely because of its leading edge fabrication plants (fabs), and large R&D budget.  They released the first 45nm CPU in 2007 and AMD followed shortly thereafter.  Now that AMD has spun off its fabs into a new, independent company GlobalFoundries, expect more competition from them in driving process technology.
The Future
With CPUs trending towards more cores and less power, especially for laptops and netbooks, look for quick advances in manufacturing technology.  It was only 2 years between 65nm and 45nm, and I would expect that 32nm processors are not far away.  With a new technology and smaller transistors, look for the next wave of processors to have much faster clocks, more cores (on average), and longer battery life in mobile applications.  Could the next wave of 8 Cored 32nm processors be right around the deveoping corner? Every time it appears that Intel is unbeatable, AMD has showed the thought behind their name (Advanced Micro Devices) and shocked Intel, time and time again, .  Look for AMD to quickly close the gap that Intel has created, and possibly beat them to the 32nm punch. And it could all go down sooner than we all think…
What have you Heard?