Kickr II – 'The Outdoor Solar Charger'
Have you ever wanted to go hiking, biking riding, mountain climbing, or any outdoor sport/hobby, but afraid that your mobile device might more than likely die? Well when your mobile charger isn't enough for the hours you love to spend outdoors, the Kickr II by EnerPlex, might just be the right solar charger for you, given that there isn't a cloud in the sky.
Unlike their other Solar chargers, the Kickr II is pretty rugged can be dropped, kicked, covered in dirt, rained on (as long as the small electrical box isn't getting too wet) and et cetera. It's meant for the people who enjoy spending most of their time doing outdoor activities. Oh, and did I mention, it's perfectly fine to bend! With Ascent Solar's Wave Sol Mobile, flexible, thin-film modules for Energy-Integrated Photovoltaic, or EIPV for short, this allows it to bend in ways a traditional glass solar panel denied you. Being extremely thin, and flexible, it can fit just about anywhere, as well as unable to notice you are carrying it.
Before we get into the let's take a look at the Kickr II technical specs:
Power:
3.5 Watts Unregulated
3.0 Watt, 5 Volt System Regulated
0.6 Amp Output (STC)
*STC- Standard Testing Conditions
Dimensions:
Product: 361.95mm (14.25") x 190.5 mm (7.5") x 18mm (.71")
Product with Packaging: 444.5mm (17.25") x 190.5mm (7.5") x 24mm (.94")
Weight:
Product: 226.8g (0.50 lbs.)
Product with Packaging: 267.6g (.59 lbs.)
Photos:
I didn't receive a package with the Kickr II, so I would be unable to provide you with the packaging pictures, but I do have the product it self, let's take a look.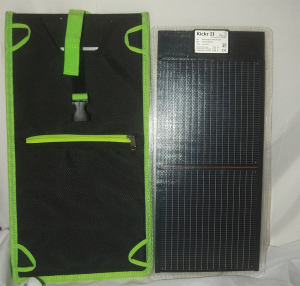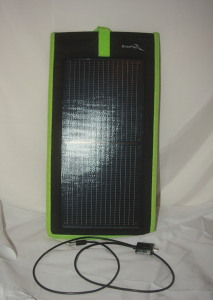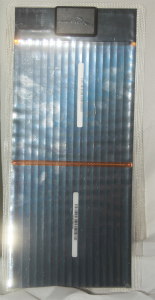 Testing:
Unlike most of EnerPlex's devices, the Kickr II does NOT have a backup battery where you can store a bit of juice to later use. You will have to use it in direct sunlight for this charger to work.
The testing I concluded was on the Digital2 7″ tablet. Starting the charge from 0% up to 100%
After plugging in the Enerplex and leaving it out in the sun for an hour, it charged the tablet 30% from 0% and the off position. I turned it on, and left out to continue to charge. After turning the tablet down, the charging slowed down to about 15-20%, It took about 5 hours to charge completely.
One thing I did find interesting was, if you set the Enerplex in the shade, but as long as there is a reflection of the sun hitting it, the Enerplex will still charge.
Conclusion:
I believe this is a great, flexible, take anywhere, can take a bit of a beating, solar power product to charge your devices. But, the fact that it doesn't store of the energy to use for later is a bit of a downer.
So if you love sunny days, without a cloud in the sky, and are thinking of going out that day, then this is the product for you.