Specifications
Chipset: Ubicom IP7k
RF: Atheros AR9223
Ports: 1x WAN 10/100/1000, 4x LAN 10/100/1000 switch
Speeds: 1000 Mbps wired and 300 Mbps Wireless (theoretical)
Frequency: 2.4 – 2.484GHz
Operation Channels: 11 of North America, 13 for Europe
Wireless Channels: IEEE 802.11b/g/n
WAN Options: Static IP, DHCP Client, PPPoE, PPTP, Clone MAC address, DNS Relay,
LAN Options: DHCP Server, Static IP, DNS, UPNP
Wireless Security: 64/128 WEP Encryption, WPA Personal (TKIP or AES), WPA Enterprise (TKIP), Hide SSID, WiFi Protection Setup
Firewall Options: Block ICMP Ping, Stateful Packet Inspection, Rule Based (IP Address Ranges, Port Ranges & Schedule), DMZ (Demilitarized Zone) Host Support
Router Options: NAT, Static Routing (RIPv2), Dynamic Routing, Virtual Server, IP Address Mapping, Port Forwarding, Port Triggering, MAC Address Filter
Quality of Service Options: Stream Engine
Looking at all this jargon can definitely be intimidating.  A couple main points to take away from this is the capability for Wireless N speeds (The box boasts up to 300Mbps with 11N technology), 4 LAN 10/100/1000 ports on a switch, and the full consumer line of wireless security.
Unboxing
Opening the box, we see the quality of packaging EnGenius has done in order to keep the router safe during shipment.  While everything has its own section, there's an absence of foam keeping everything safe.  Not a real big deal as the router came to me unharmed, I would still like to see some better packaging.Getting everything out of bags and boxes, we see this kit comes with:
1x EnGenius 300N Router
1x 3ft Cat 5e patch cable
2x 3dBi Dipole Antenna
1x Power Adapter
1x Software and Documentation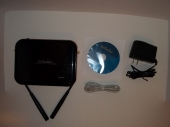 During my initial inspection of the router I was surprised to find no reset switch: Only a power switch on the back and a WPS button on top.  I later found the Reset and Hard Reset operations are done by holding the WPS button for a length of time.  On the back of the router, we see 4 LAN ports (yellow), 1 WAN port (blue), our power port, and our power switch.  A couple really nice things to point out here: The ports are all shielded and the use of a dedicated power switch.  Flipping around to the front we see 8 LED indicators corresponding to (from left to right) Power, Wireless, WAN Connection, LAN Ports (x4) and the WPS Indicator.  On the left and right of the router are the Antenna ports which are easily screwed into place.  The WPS Button is clearly marked on top of the router.  My only issue here is the WPS button doubles as the Reset and the Hard Reset button.  This brings the possibility of someone unknowingly reverting the router back to factory defaults.  Call me old school but I prefer the reset pin-hole.  The underside also has 2 slots for mounting but does not come with hardware to do so.
| | |
| --- | --- |
| | |