Introduction:
There are numerous all in one devices competing in the SOHO marketspace.  For a product to distinguish itself it has to be affordable, intuitive and easy to configure and use, utilize current technology effectively, or have some key features that give a competitive edge to the businesses that invest their hard earned tech buying dollars.  In a field crowded with excellent products, the Epson WorkForce 840 is one such stand out. It is simple to configure and set up. Its intuitive and feature rich interface permits a very gentle learning curve, it is compact, "green", blazingly fast, feature packed, and given the strong competitive environment, surprisingly affordable.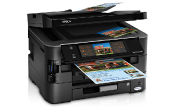 Simple to set up and configure
Like many technically inclined individuals I spurn with sneering derision the injunction to RTFM. I unpacked and began to set up the WorkForce 840 within 30 seconds of entering my home office. Since I intended to configure the machine wirelessly, I jumped right into configuring from the built in touch panel. It was ridiculously easy.  Once the device was installed on the network, I installed the driver and utilities bundled with the printer on 7 computers, 6 PCs running various flavors of Windows and one Mac. The Windows PCs included 3 running XP Professional Service Pack 3, a Netbook running Windows 7 Home Premium (32 bit), and a desktop and laptop running Windows 7 Ultimate (64 bit). The Mac was a non-Intel MacBook running OS X 10.4. Everything went swimmingly until I hit the first 64 bit PC and the installation failed. At first I thought the problem was due to my inadequate efforts to pay attention so I reinstalled being sure to "Run as Administrator" but the install crapped out again. Prompted by the error dialog box, I did some research and confirmed that the software shipped with the unit was not compatible with a 64 bit OS. I found an updated version on the Epson website, and I was able to install that with no problems. The total time required for deployment and setup across my entire office was about 1 hour. This time could have been drastically reduced if I had performed parallel as opposed to serial installations.