The WorkForce 840 has a very gentle learning curve
I assembled a panel of users consisting of a computer science under graduate, a 16 year old high school student and a suburban house wife. I gave each a 5 minute introduction to the printer and asked them to exclusively use the WorkForce 840 for all of their printing, scanning and copying.  In terms of putting the device into productive use, five minutes of training was more than adequate. After a week I asked the users for feedback on their experience and the response was universal and favorable. From basic copying, scanning, faxing and printing to more arcane tasks such as using the bundled ABBYY FineReader Sprint for OCR, none of the users had encountered any serious problems. The only minor issue was using the WorkForce 840 for copying or scanning from books. If one  copied the page with one half of the book on the scanner plate, and the other half hanging over the edge, the half hanging over the edge covered the touch screen, making it hard to access the control.
The WorkForce 840 is compact and "green"
The WorkForce 840 has a modest foot print for so capable a device. It measures 17.6" long, 14.5" wide and 11.8" tall.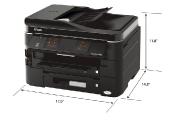 With empty paper trays it weighs in at 22 lbs. Per the Epson Website, the WorkForce 840:
Uses up to 70% less power than laser printers
ENERGY STAR® qualified
RoHS, Restriction of Hazardous Substances, compliant
"Designed to be recycled"
"Epson America, Inc. is a SmartWaySM Transport Partner"
From the EPA website: "SmartWaySM Transport is an innovative collaboration between EPA and the freight sector designed to improve energy efficiency, reduce greenhouse gas and air pollutant emissions, and improve energy security."
And of course as the manufacturer repeatedly points out in its marketing collateral, when one uses duplex printing, one automatically saves up to 50% on paper use.