Closer look:
Batteries must be used in order for these headphones to work. There are two AAA batteries provided inside the package. They must be inserted in the left ear piece which opens up by rotating it clockwise. Once the batteries are inserted and headphones plugged in you have to press the power button on the left ear piece to turn them on. An early problem can be foreseen. Since a power button is quite unusual on headphones it wouldn't be hard to forget to turn it off and batteries might not last as long.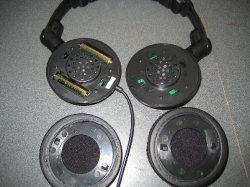 Comfortability:
These headphones sit very comfortably even on my asymmetric head. The swiveling ear piece and adjustable height allows these headphones to fit any head shape. The headphones fit around your ear with a velvet padding and the top is covered with padded leather headband which makes them soft around all corners. These headphones will not bother you even after hours of wearing them. GHP-05Live is definitely comfortable.
Sound Quality:
There are few things that must be said about quality. The headphones leave up to the promise of delivering an enhanced range and bass quite clearly over my 40$ Altec Lansing headphones.  I've tried these headphones on few different medias(TV, music, movie, PC games, guitar amp). I prefer it for guitar amp and PC games. If you're an online FPS enthusiast and have a non-integrated(not on the motherboard) soundcard than you will hear the enemies farther and be clearer about their position. Genius headphones also work perfectly well for my guitar amp, they deliver the sound very accurately and clearly from an over-driven guitar.
Though the headphones deliver on the sound quality a downside must be noted for audiophiles. While watching listening to any kind of media that does not play lower notes it will have a natural tone in the background. The sound is not unlike the sound you would hear if you power up big speakers but not have music playing on them. Though an audiophile myself this "problem" would not prevent me from using these headphones.
Pros:
Great sound
Very comfortable
Cons:
Wired
Requires batteries
Often has an audible background noise
Conclusion:
The "noise" that comes from the headphones when they're not playing base notes will be audible on many medias because the wide range of sound. Could be a deal breaker for some but for the price there aren't many better choices. Another small inconvenience is required batteries and a power button to turn the headphones on. I think pros outweigh the cons in this case, plus I can't tell you how many times I wish my previous headsets had an extension cord because of my PC set up. These headphones do what they promise, deliver great sound range and good base notes. It's decent headphones available for 49$ on official website. I'll definitely recommend these headphone for anyone playing FPS games with limited budget. They will provide you with a slight edge that you wouldn't normally get granted you must have a non-integrated sound card for all channels to be audible.