Introduction
Everyone likes watching movies, but not everyone likes paying exorbitant prices at the movie theaters. Sure you can wait till the movie comes out on Blu-ray or DVD, but you're screwed if your disk ever gets scratched. Some people build HTPCs to house all of their movie files and stream them to their TV. This can be expensive piecing together all the parts for a HTPC, and can be daunting for the non technically inclined. There are all in one solutions like the Popcorn Hour or the Western Digital TV Live Hub. Even with the all in one solutions you will still need to set up network shares if you want to access media that's on your computer. Non tech savvy users won't know the best way to go about doing that. Horettek shows up with their Fantasy Media Player in the lab today, a device that promises to simplify the process of watching HD video files on your TV while being less expensive than the competition. Read on to find out if the Fantasy Media Player should have a spot in your home entertainment center.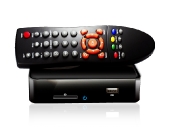 Hornettek's Take
Sit back, relax, and enjoy your HD movies, photos, and music with Hornettek Fantasy! Compact and sleek design, Hornettek Fantasy is a powerful media player that comes with Full HD-video playback (up to 1080p), Dolby Digital and DTS surround sound enabled. Simply plug any USB storage device or insert SD card to Hornettek Fantasy, you can easily play your favorite movies, music and pictures on your TV with a user-friendly control. Hornettek Fantasy's feature menu allows you to quickly browse and play any movies, photos and music from connected USB storage devices and SD card. It also supports today's most popular media formats (MKV, RMVB…etc).

With special air-circulation design, Hornettek Fantasy is a noise-free device with strong digital media processor which ensures long hours of best quality movies, music, and photos playback. Supporting both PAL and NTSC television formats, the Hornettek Fantasy will automatically adjust between PAL and NTSC to fit almost all TV standards around the world.