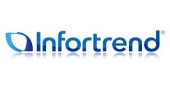 If you're familiar with SOHO or SMB level NAS devices, or you happen to be in the market for one and have been doing a bit of research on which might best fit your particular needs, then you will likely be familiar with vendors such as QNAP, Synology, LaCie, or Thecus. One vendor that may not readily spring to mind is Infortrend. Infortrend is not a new company, they have been designing enterprise level storage devices for some time now, but what is relatively new is their entrance into the entry level SOHO and SMB NAS market. One of their primary focuses is bringing traditionally enterprise level features and functionality to the entry level or desktop market segment. With features like a ZFS file system, Data Deduplication, Snapshot, Data Compression, and Remove Replication, Infortrend offers solutions not commonly found in other competing NAS devices in this space. These features alone are compelling enough to warrant consideration, but let's take a look at Infortrend's device line-up.
The EonNAS Pro series is comprised of Infortrend's SOHO/SMB solutions and they come in 2, 5, or 8 drive variants. For the most part, all of their current x10 models come with 2GB of memory and are powered by an Intel Atom Dual-Core 2.13Ghz Processor. They do have a couple variants of the EonNAS Pro 850 which ramp up the installed memory to 8GB of memory and the processor to an Intel Core i3 Dual Core 3.3Ghz chip. In today's review, we will be taking a look at the EonNAS Pro 510 specifically, which Infortrend sent to us with 4 x 1TB drives installed.
Before getting to the review, let's take a peek at the EonNAS Pro 510 hardware specifications:
Intel Atom Dual-Core 2.13GHz CPU
2GB DDR3 RAM
2 x Gigabit LAN ports
5 x 3.5" SATAII/SATAIII hard disk drive bays
USB ports: 2 x USB 3.0; 5 x USB 2.0
1 x eSATA port
LCD panel
Dimensions: 220(H) x 175(W) x 245(D) mm
Sound Level:

Sleep Mode: 26dB
Access Mode: 29.3dB

Weight:

5.00kg / 11.02lb (without HDD);
9.00kg / 19.84lb (with HDD)

250W AC power supply
Input power voltage: 100V to 240V AC ~/3.5A with PFC (auto-switching)
Power frequency: 47 – 63Hz
System fan: 1 x SmartFan (9.2cm, 12V DC)
Nothing particular jumps out to me looking at the hardware specs for the EonNAS Pro 510, as it is more or less in line with similarly priced offerings from other vendors, but it is good to see the amount of included integrated connectivity with the USB and eSATA ports.
Packaging:
The box the EonNAS Pro 510 comes in is sturdy, solid, and does an extremely good job of highlighting what the EonNAS Pro 510 is and what it can do. Infortrend spared almost no real-estate on the box ensuring all the product highlights, features, functionality, and specifications are clearly listed as to eliminate any confusion by the consumer as to what they are purchasing. Once inside the box, the EonNAS Pro 510 unit itself is securely encased in foam padding which appears to be more than capable of ensuring that the unit remains unscathed prior to being deployed by the customer. With everything unpacked, here are the contents:
1 x EonNAS Pro 510 unit
5 x Drive Carriers
1 x Power Cable
2 x Cat 5e Ethernet Cables
1 x Installation CD
1 x Quick Installation Guide
Good to see that Infortrend includes everything needed to get the EonNAS Pro 510 up and running right out of the box.