Testing:
The only way to really test a computer case is to install all of your components and rate it on the ease of use/installation. Start out by placing the motherboard screws into the appropriate places. Listed on the motherboard panel are numbered screw holes with a list of which numbers are needed for various motherboard form factors. Next will be the power supply, hard drives, DVD drives, and any other gadget you may have. All of these slide in nicely and there are no tricky "press this button then turn this knob 48 degrees to the right" or anything like that, just simply put it into place and lock it.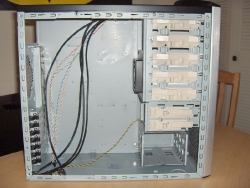 Placing all of the components into the computer turned out to be no problem. Only taking around 15 minutes I was able to get this computer running. Once loaded into windows I tested out the front connectors, all of which seemed to work fine with no problems. With the availability of having front USB and firewire ports allow for quick access of those digital cameras, phones, flash drives and other portable devices that you don't always leave in the computer.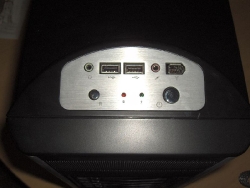 The case comes with a 4 bay hot-swappable SATA raid cage, which is great for those who like to keep their data secure and need to move files from one place to another quickly. The raid cage will fit up to a maximum of four SATA hard drives. Once in the cage the hard drive slot can be locked so you do not accidentally take it out. It has an activity light on the front for each drive that will blink when the drive is in use. The drive cage will need to be plugged into the motherboard in order for it to work fully- this requires 4 SATA ports and 4 SATA power connectors as well. Most motherboards only have 4 SATA ports so if you use a SATA drive already you can either put it in the drive cage or just disable a portion of the cage.
On the side panel of the computer is ventilation for your processor and graphic cards, this will help lower the temperature of your computer and allow for it to run more smoothly. Keeping your devices at lower temperatures will also increase their lifespan.
Conclusion:
The IStarUSA S-9 Storm series computer case has many great features.  Having the ability to plug in your accessories to the front of the computer rather than reaching around to the back is a great feature in itself.  Also because it is designed as a server case, having the SATA raid cage allows for easy access of your hard drives in case you want to quickly move data from one place to another.