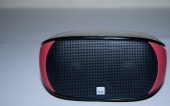 Introduction
There is a growing trend today where people love to have their music wherever they go. Many times a headset is not always the right answer; in this case, iui Design has released a product that will cater to the needs of people for their music collection. With its dual speakers and great bass sound, music lovers everywhere will love this device for their on-the-go audio desires. Follow along as this product is detailed and find out how well this device will fair in real-world use.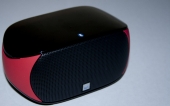 From the Manufacturer
Here is a look at what the manufacturer has to say about this product:
iui Design BeLive

Amazing deep base performance
Compact size with sound in your pocket
Looming touch panel with LED backlight
Bluetooth connection for the total unbounded experience
Wireless Speakerphone favor any instant conference calls, voice/video chats in everywhere
Long lasting power with rechargeable Li-ion battery
Dimension: 115.5mm(L) x 71mm(W) x 57mm(H) / 4.5in(L) x 2.8in(W) x 2.2in(H)
Let's take a look at the overall build quality, as well as the contents of the device.