The LG G Watch R In Use
Out of the LG G Watch R solid black design could use some added color. I like the black on black but would appreciate something to break up the design a bit. The first thing I noticed is that the watch strap is easily the cheapest looking and feeling of all the smart watches I looked at. This really wasn't a big deal for me as I figured the first thing I would change on any of these watches was the strap. It does employ standard watch straps making the changing process easy to do yourself. The watch has a single button used to turn on the watch or take it out of rest mode. The other immediately noticeable features is that the LG G Watch G is constantly on and in one of two modes, full on, and at rest with a dimmed display. This means you can easily see the time, date, and other information without turning the watch on.
Setting the watch up took a grand total of three minutes. My phone instantly recognized and paired with the LG G Watch R, and from there it was only a matter of customizing the watch to my needs. Android wear utilizes something they call cards to provide notification from various applications on your screen. You can customize which cards are displayed, block applications from displaying notifications, and add to the cards that come default. The software is highly customizable to suit your needs, many of the apps provide really useful information and as the Android Wear marketplace grows so do your options.
Watch Faces:
There is quite literally a ton of free watch faces available to suit the LG G Watch R as well as every other smart watch on the market. If the million choices already available aren't enough there are several free and several paid apps that will allow you to create your own. As such I found I am limited only by my ability to learn the apps and some basic editing skills and I can have my watch display just about whatever I want. There are two very well known apps that allow you to customize the watch face, they are Facer and WatchMaker, I highly recommend trying WatchMaker.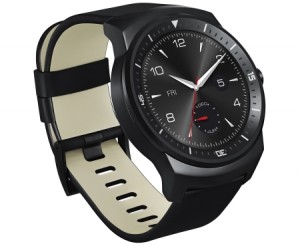 After some familiarization with the LG G Watch R, cards, and the android wear program, I found the usefulness of the watch was greatly enhanced. I used it for navigation, weather alerts, and interestingly enough I changed my watch face often to suit particular needs of the day or event. The watch has the capability to display appointments, take notes, and set new appointments which sync with your smart phone calendar.
Almost all data entry into the watch is accomplished by means of voice activation. Everything from sending texts, taking notes, and setting appointments is accomplished by voice commands. I suspected I would have issues with the voice commands being inaccurate but contrary to my belief they are remarkably accurate. I only had issues in noisy environments on when someone was trying to speak to me while I was issuing a voice command.
Fitness:
LG includes a HRM (heart rate monitor) and step counter in the LG G Watch R. In my experience both of these apps need much work. The step counter varied wildly and didn't seem accurate to my activity. The included HRM often took up to 30 seconds to register and when it did it would often reply that the wrist strap needed to be tightened. I tried several times to get the HRM to take my pulse and found it actually worked best when placed on the bottom of my wrist rather than on the top. These features would really have come in useful and its unfortunate that it doesn't work well.
 Charging Dock:
The charging dock functions similar to the way the Samsung Gear Series and the Asus Zenwatch dock works. The dock utilizes a magnetic mechanism to secure the watch and uses a standard Android charging cable. The LG G Watch R comes with a standard charger and cable, instruction booklet, and quick start guide. Oddly enough the version I purchased in the store here in the US came with a European charger, this is not an issue as I simply replaced it with a different USB charger and it works just fine.
In my experience the LG G Watch R lasted a full day 24-27 hours of use before requiring charging. I should mention that I used the watch heavily for sending text messages, checking the time, accepting calls, and checking various notifications as they occurred. I also have the watch set to a brightness level of 4 out of 6. The watch will take a full charge in only a few hours, less if you are using a more powerful charger.
Conclusion:
I have been using the LG G Watch R for a week now and overall; my experience is positive. I have come across some issues with loading applications to the watch, selecting watch faces from time to time, and repeat notifications occuring that I have previously cleared. One of the highlights of the LG G Watch R was to be navigation for me. This function while working, leaves much to be desired. The included Google maps mini is still in its infancy and needs to mature. It is good for navigation to well known places but dictation of addresses and custom locations often doesn't work.
On the up side, the LG G Watch R is very useful for quick checks of notifications, has a pretty good battery life, syncs well with my phone and most of its functions work as advertised. It looks good on my wrist and is highly customizable. The LG G Watch R needs a better included strap, some additional color options (like chrome or steel), and the bugs worked out of the HRM and step counter.
if you are looking for a smart watch that is a bit less easy to break, is built well, and has a full circular display then the LG G Watch R may very well be the best offering currently on the market.
Pros
Cons
Rating

Metal Housing with Raised Bezel
High Resolution Display
IP67 Water and Dust Resistant

Techware Labs Rating:

7 out of 10