Introduction:
Over the last 3 decades, laptops have sky-rocketed to become one of the largest industries inside consumer electronics, and as more and more of us strive to have the newest and greatest out there, we find ourselves spending a good portion of our "extra money" on accessories for our personal computers, specifically laptops. Logisys, a huge dealer in electronic parts and accessories, delivered the NP160 Aluminum USB Laptop Multifunctional Cooling Pad. At first glance the Cooling pad looks ordinary and you wonder if Logisys really makes use of the "Multifunctional" part of its title. Can they add that extra *bam* to this cooler and make what seems to be ordinary, in to something "extra"ordinary?

Logisys' Take:
Designed for up to 17″ Laptops, with built-in Card Readers for most memory cards, USB powered with two USB outlets, dual silent cooling fan power and trendy aluminum surface design, this laptop cooling pad provides ultra solution for any thermal problems you have with your laptop and also the convenience for card readers and USB access.
The cooling pad weighs only 3 pounds with package. The retail package comes with a handle for easy carrying. The USB power cable is retractable for easy use and storage!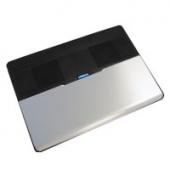 Will the NP160 live up to the hype and promise? Continue with out review to find out.