A Closer Look
OCZ's Reaper line of RAM modules is known for their crazy large heat spreaders. They didn't break tradition.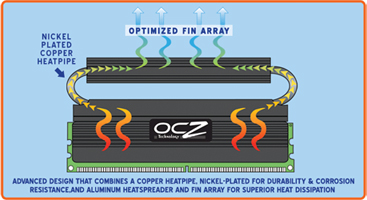 The massive heatspreaders help prevent the chips from burning up during insane overclocks, which other spreaders wouldn't survive.  You will need to set all of the timings and memory ratio manually for these sticks, as there isn't an X.M.P. (eXtreme Memory Profile). This isn't that big of a deal, because if you're buying "enthusiast" grade RAM, you're probably overclocking it. If that's the case, then you'll be setting all of the timings and memory ratio manually anyways,  making the X.M.P. pointless.
Installation
Because of the large heatspreaders, you should probably measure the clearance of your heatsink if it hangs over your DIM slots. Theses modules stand 2 and 11/16 inches (6.8cm) above the DIM slot. It was a pretty close fit, putting them in with my Thermaltake Frio obstructing one of the DIMM slots. I wouldn't be able to fully populate all 6 of my DIMM slots with these modules, but I was able to fit the 3 that came with this kit.