Introduction:
After a while all graphics cards seem to blend together. Most are just the reference design with a company logo on it. For the most part they all perform the same. That's why it's so refreshing when a company does something different with their cards. Sapphire, one of the largest manufacturers of graphics cards, introduces their new HD 6950 FleX edition card. While the speeds of the cards may be stock 6950, Sapphire makes this card stand out by enabling it to run 3 monitors in an Eyefinity setup without the need for expensive Display Port monitors or adapters. While the FleX brings a cool trick to the table, does it have what it takes to run today's games? Only reading on will give you the answer.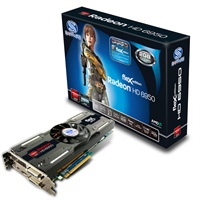 Sapphire's Take:
Most graphics cards based on AMD technology require the third monitor in an Eyefinity set-up to be a DisplayPort monitor, or connected with an active DisplayPort Adapter. The SAPPHIRE FleX family can support three DVI monitors in Eyefinity mode and deliver a true SLS (Single Large Surface) work area without the need for costly active adapters. The first two monitors are connected to the two DVI ports and the third to an HDMI to DVI cable (supplied) with no extra hardware required.

The SAPPHIRE HD 6950 FleX is now the highest performing card with this feature, allowing gamers to use low-cost DVI monitors for all three screens. Additional monitors can be added to the setup, but must be DisplayPort connected.

Like the standard HD 6950, the SAPPHIRE HD 6950 FleX Edition boasts true DX 11 capability and the powerful configuration of 1408 stream processors and 88 texture processing units. With its clock speeds of 800MHz for the core and 1250Mhz (5 Gb/sec effective) for the memory this model brings multi-screen enjoyment to even hard-core gamers.