Specifications:
Output
1 x Dual-Link DVI
1 x HDMI 1.4a
2 x Mini-DisplayPort
1 x Single-Link DVI-D
DisplayPort 1.2
GPU
800 MHz Core Clock
40 nm Chip
1408 x Stream Processors
Memory
2048 MB Size
256 -bit GDDR5
5000 MHz Effective
Dimension
270(L)x110(W)x40(H) mm Size.
Software
Driver CD
SAPPHIRE TriXX Utility
Accessory
CrossFire™ Bridge Interconnect Cable
DVI to VGA Adapter
Mini-DP to DP Cable
6 PIN to 4 PIN Power Cable x 2
HDMI to SL-DVI Adapter
HDMI 1.4a high speed 1.8 meter cable(Full Retail SKU only)
Packaging:
| | | | |
| --- | --- | --- | --- |
| | | | |
| | Box Front | Box Back | |
The outside of the box is pretty standard fare for graphics cards. Nothing truly amazing to behold here.
Inside is where things start to get interesting. We get our first glimpse at Sapphire's redesigned cooler. The cables that Sapphire includes are everything that you should need to start running 3 monitors right out of the box. I like that they include the CrossfireX bridge with the card.
The card requires 2 6-pin PCIE connectors to get it up and running. That's modest considering some of the other energy hog cards out there. On the front plate we can see all five of the connectors that will plug into your many monitors.
A Closer Look:
The new Cayman line of card from AMD feature a pretty serious architecture overhaul. Without going into too much detail, AMD decided to reduce the size of their instruction pipeline. This was done after researching that most games don't fully utilize the pipeline per clock cycle. By reducing the pipeline, they were able to stuff more SIMDs onto the die. This allows the card to execute more threads at once and therefore run faster. A few more under the hood improvements allow the card to be more efficient at general GPU computing.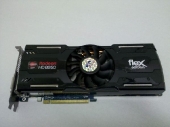 Instead of rebranding the reference design from AMD, Sapphire opts to mix things up a bit. The first thing they did was ditch the stock cooler and implement one with a more efficient and quieter design. The cooler that they install, positioned right over the GPU, is able to blow air out both the front and back of the card, allowing it to dissipate heat faster than the stock blower fan that normally sits at the rear of the card. Like the other reference design cards, the FleX edition has a dual BIOS switch, which means it may have the capability to unlock the shaders that have been blocked off, making it into a full fledged 6970. During our testing, we found the card to run extremely cool compared to the reference design. Under full load, the card barely peaked 60 C on average. For comparison, the reference cards are averaging in the 80's C under full load. This leaves a lot of head room for potential overclocking.