Setup:
The included Quick Start Guide is extremely simplistic, and for good reason. There are few products that offer so much functionality, yet require so little setup. Right out of the box, the Wireless Plus appears to be fully charged and ready to go. Essentially, all that is required is to remove the plate on the Wireless Plus that covers the USM SATA connector, attach the USB adapter, and attach the USB cable between the Wireless Plus and your computer.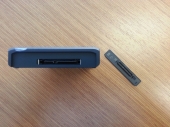 At this point, not only is the Wireless Plus charging (being attached via USB cable to your computer), but it should also be available as a removable storage device allowing you to begin loading it up with all your favorite media. Since the Wireless Plus is formatted NTFS, Apple users will have one additional step required (covered in the User's Guide available on Seagate's website) in order to read/write files. Thankfully Seagate has maintained the drag/drop method of adding media to the Wireless Plus. This is still a welcomed process over the iPad/iTunes approach. There are pre-configured folders for common files, such as Videos, Music, Photos, and Documents. You can create your own folders and the Wireless Plus is smart enough to take inventory of files and present them cohesively when browsing.
With the Wireless Plus loaded up with some media (it does come with pre-loaded media for testing), it's time to setup the wireless. Thankfully, using the word "setup" here is complete overkill, as there really isn't much to setup. If you're ready to start sharing media wirelessly, all that is required is for it to be disconnected from your computer and powered on. Once the Wi-Fi is up and ready, connecting to the Wireless Plus merely requires you to connect to the "Seagate Wireless Plus" network on your mobile device. If your mobile device runs IOS or Android OS, you should also pull down the Seagate Media App from the iTunes Store of Google Play Store (free of charge).
In addition to media browsing, the Seagate Media App will allow you to configure Wi-Fi security, as by default the "Seagate Wireless Plus" network is open an unsecure. Additionally, the app will also allow you to enable internet browsing through the Wireless Plus device. This allows you to connect your mobile device to the Wireless Plus device and access the stored media, but will also allow you to browse the web at the same time. This feature supports connecting to wireless networks that have security enabled, as well as webpage logins (common to airports and hotels).
Functionality and Testing:
With the Seagate Wireless Plus setup out of the way, it is time to kick the tires and see how it performs. Before evaluating the wireless capabilities, I wanted to do a little performance testing. However, I must preface this by saying that this product is not billed as a performance oriented product. It is designed to optimize battery life, with a feature rich offering allowing for streaming media, wireless access to files, and concurrent client support (up to 8 connections). With that said, with it connected to a USB 3.0 port, here are some quick and dirty internal drive specs and performance results.
According to Seagate documentation, the Momentus drive used with the Wireless Plus has a max read/write speed of 145MB/sec. As you can see, direct connected via USB 3.0, the Wireless Plus falls short of those advertised maximums, at 110MB/sec read/write. Looking at other external drives in the market, this is very respectable performance.
Moving on to the wireless functionality, as previously outlined in the Setup section, getting things connected is about as easy as it gets. I used several devices I have around my house as test clients for accessing the Seagate Wireless Plus. This included a Samsung Note II (AndroidOS) smartphone, Apple iPad (iOS), Samsung Smart TV, and a laptop running Windows 7.
Starting with my Smartphone and iPad, I downloaded the Seagate Media App for both. Having reviewed the Seagate GoFlex last year, I was already familiar with the Seagate Media App. However, with the latest version of the media app, I noticed they have made some improvements in this department. First, the media app is leaps and bounds more responsive. Navigating around the app, browsing media and files feels more fluid. This experience was consistent across both devices. Secondly, enabling the ability to connect to the internet though the Wireless Plus was intuitive and easy. It appears when you enable this feature the Wireless Plus will momentarily reset its wireless functionality, which was unexpected, but when it reconnected everything was smooth sailing. Browsing seemed responsive and I couldn't detect any noticeable lag surfing the web using the Wireless Plus as a portal to the internet.
| | |
| --- | --- |
| | |
Lastly, another new addition to the Seagate Media App is the ability to upload files from your devices to the Wireless Plus wirelessly. This feature is extremely straight forward, and I was able to figure it out without having to reference the documentation. Aside from the new features, the Seagate Media App in general is a very functional app, allowing you to browse/stream media and access documents/files stored on the Wireless Plus. Additionally, it has several management functions such as showing available battery life, the ability to set a wireless password, view storage capacity, etc… All and all, the Seagate Media App compliments the Wireless Plus in every way, rather than detract from it, which is exactly what a support utility should do. So it's good to see that Seagate has maintained visibility to the importance of a robust utility application in addition to a solid product.
Streaming media to my smartphone and iPad worked as advertised, even with ranges I would feel are unrealistic for this type of device (as I can't imagine that you would often be outside of a 20ft range while on the go). I was able to view HD videos several rooms away, without any hiccups and my home is notorious for poor wireless reception. This was something that impressed me with the previous generation and it continues with the latest edition. The only rub I think some users will run into, is the limited file type support:
Video: H.264 video, MPEG-4, Motion-JPEG
Audio: AAC, MP3, M4a, Audible (formats 2, 3, 4), Apple Lossless, AIFF, WAV
I have several movies encoded in .mkv format and these simply won't stream unless you use a 3rd party app. So if your media library consists of media file types outside of those listed above, you may want to plan ahead and start looking for a 3rd party solution.
Moving to the laptop, with the lack of the Seagate Media App, everything is done via the browser. The browser interface to the Wireless Plus looks, behaves, and functions just like the app, and will stream directly to the browser (for the supported media types). However, for unsupported media types, you will be presented with the option to save the media file locally to play, which unfortunately for full length HD movies will be unacceptable, given limited wireless speed of the single band wireless-N support of the Wireless Plus.
Last up on the device testing, was my Samsung Smart TV. I have read where there is supposedly a Seagate Media App coming to Samsung Smart TV's, but it apparently isn't available as of the date of this article. Luckily, the Wireless Plus supports DLNA. As embarrassing as it is to admit, I couldn't get this to work to save my life. After reading the documentation and banging my head for a bit, I realized I was mindlessly clicking through a prompt on the Seagate Media App that was critical to this operation. When you connect to the internet through your Wireless Plus, you are prompted as to whether you will allow access to the files on your Wireless Plus to other devices on the network. If you click No, DLNA will not be enabled. After having discovered my folly, I had DLNA enabled and was quickly streaming movies to my TV without any (further) issue.
The only real remaining item is battery life. The advertised battery life is 10 hours, and shockingly my particular test unit exceeded that by thirty four minutes, for a total of 10 hours and 34 minutes. I would say that the usage for this test was continued use, not necessarily continued streaming. Therefore, battery life will be heavily dependent on usage. With a standby of up to 25 hours, your actual battery life will be dependent on how you use it and how many clients you have using it. All I can say is that the longer battery life is a big "Plus" (pun intended) over the previous generation.