Introduction
In addition to our recent testing of the Silicon Power A80 Armor USB 3.0 portable hard drive Silicon Power also provided us with the TOUCH 851 USB 2.0 Flash Drive.  A flash drive review might seem trivial considering the market is saturated with flash drives of all shapes, sizes, capacities, and abilities. However the Touch 851 is no ordinary flash drive. With a sleek checkered textured casing available in silver or gold the physical appearance shouts 'Bling-bling!' Underneath the hip exterior is a sliding USB connector of a drive that is waterproof, dust proof, shock and vibration proof. Many people will experience the loss of a flash drive due to physical damage, but the Touch 851 is designed to be one tough cookie.
Silicon Power's Take
The classic checkered design never fades and it shows in Silicon Power Touch series USB flash drives! World flash leading manufacturer, Silicon Power announces today (7/6) their new Touch 851 Crystal Disk. It is available in gold or silver and coated with shinny checkered like/ diamond cut design showing off its quality and elegant aura.

Silicon Power's Touch 851 Crystal Disk comes with a necklace that turns it into a unique fashion accessory. Materials on Touch 851 are carefully selected and designed. Made from zinc alloy, it is tougher than most; it has a sliding design that protects the gold fingers from unnecessary exposure which may result in data loss.

Utilizing COB (Chip On Board) packaging technology, Silicon Power's Touch 850 is waterproof, dust proof and shockproof; Silicon Power also provides users with SP Widget that has 7 major security functions and a 60-day trial version of NIS (Norton Internet Security). All Silicon Power products are in compliance with strict RoHS standards and comes with Lifetime warranty!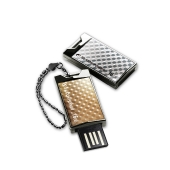 Silicon Power Touch 851 Flash Drive

Packaging
Bubble packaging, minimal