Introduction:
Electricity is the life juice of every computer system. Without it, there is nothing. Today we have the grand daddy of all power supplies. A whopping 1250 watt behemoth of electron flowing force. This is not your mom and pop's PSU. Sparkle, a company more know for making video cards than power supplies, gave us their new GW‐EPS1250DA to put through the ring. They knew their demographic when they christened this line the Gold Class series. The label on the front says "For Gamers & PC Enthusiasts."
I normally don't jump to a concluding point in the beginning, but I feel this needs to be stated. Unless you are running multiple graphics cards or plan to in the near future, there is no need for you to own this power supply. You're not Sparkle's demographic for this product. This is not something to put in your mother's rig, unless mom is rolling on quad GTX 480's and fits in a few rounds of TF2 and Crysis after dropping little Jimmy off at soccer practice.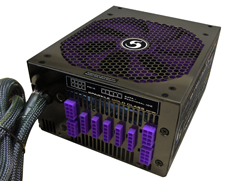 However, if you, like ourselves, feel the need to be on the bleeding edge of tech and performance, then this review will be of great relevance to you.