Introduction:
There are countless video card manufactures flooding the market today. One that is little none to most is a Taiwan company named Computer which has impressed TechwareLabs and several other review sites with their latest Calibre P980X+ Geforce 9800 GTX+ Video Card. Sparkle has worked on a very unique passive cooling design that has other video card manufacturers taking a closer look. With a unique cooling system and NVIDIA's new 55nm graphics chip, the Calibre P980X+ is one outstanding graphics card. Lets take a look at some specifications and dive into some benchmarks.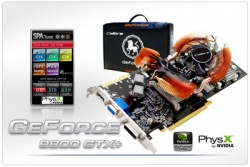 | | |
| --- | --- |
| Graphics Processing Unit | NVIDIA GeForce 9800GTX+ |
| Memory Type | 512MB GDDR3 |
| Memory Interface | 256 bit |
| Bus Type | PCI-Express 2.0 |
| RAMDAC | 400MHz |
| DVI-I | DVI-I |
| HDTV | Resolution up to 1920 X 1080i |
| HDCP | Yes |
| HDMI | Yes |
With the latest graphics processing unit from NVIDIA we get a chance to see architecturally the direction NVIDIA is going and from the benchmark we obtained from the Calibre 9800 GTX+ we see that it is definitely a positive one. This Calibre 9800 GTX+ comes with 512MB of GDDR3 RAM which assists with rendering a very graphics intensive game with no lag. Though the HDTV resolutions is capable of up to 1920 X 1080i, we were more impressed with running the card on a computer monitor at 1920 X 1200 within games and still able to get frame rates that rival its competitors.