Mobility always comes at a price, normally that price is speed or storage. Smaller devices just don't have the storage capacity of the larger counterparts. The reason I make this statement is to point out a problem with today's devices going smaller and lighter. The market has been driven to these smaller devices which tends to allow users to move from single workstations to multiple machines scattered throughout the house. The best way to protect and store your data with so many devices is to store it either on the cloud or on a network attached storage (NAS) device, unfortunately not all network storage is created equal. I bring you the Synology DS712+ NAS designed around protecting and backup your data in either a large home environment or a small/medium office. The Synology DS712+ features 2 drive bays either for redundancy or speed several USB ports and to connect to all of that the DS712+ is sporting dual network interfaces for taking advantage of fail over or link aggregation support.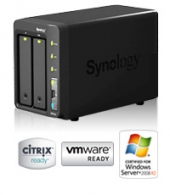 Synology DS712+ with Citrix and VMware ready Certifications.
Synology's caption on the DS712+
Synology® DiskStation DS712+ offers a high-performance, scalable, and full-featured network attached storage solution that meets the needs of small and medium-sized businesses that require an efficient way to centralize data protection, simplify data management, and rapidly scale storage capacity with minimal time spent on setup and management. The Synology DS712+ is backed with Synology's 3-year limited warranty.
This is not the first NAS from Synol0gy we have reviewed. If you are looking for something that is larger and more expensive you might want to look at the DS411 +II we reviewed recently.
One of the great features of this Synology NAS is the power of expandability, not everyone needs a 5 bay NAS right away so you can start small with the DS712+ and later add the DX510 for a number of additional drive slots without sacrificing speed by utilizing the E-Sata port to link the two devices at a high throughput.