Today we are taking a look at Synology's DS 411+ II. This 4 disk network attached storage device features their latest version of Disk Manager station (3.1). The amount of features Synology has packed into their past products has been astounding. Take a look: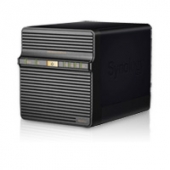 This will be the second Synology DiskStation I will review, and if you take a look at my last review this product has quite a bit to live up to. Lets see what Synology has to say:
"Synology® DiskStation DS411+II is specifically designed for small and medium-sized businesses who need a high-performance, easy to manage, and full-featured network attached storage solution to centralize data backups, protect critical assets and share files across different platforms. Synology protects your investment in the DS411+II with a 2-year limited warranty."
At it's base a NAS is very simple, and many companies produce fine NAS devices. But What really sets Synology Apart from the other manufacturers, is the DiskStation Manager. In addition to the raw specs of this device we will be taking an in-depth look through software capabilities of the DS 411+ II.