A Closer Look!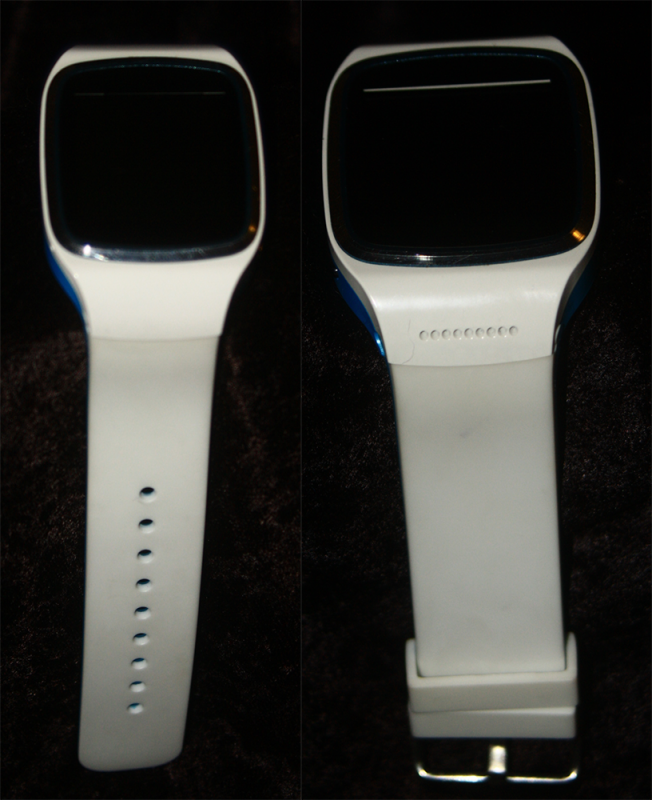 The front of the watch is pretty standard. You have the screen and wrist band. The back of the watch contains small holes for the speaker and the other end of the wrist band.
On the Right side of the watch contains the microusb port and two buttons. A Power button and Select button. Watch is also splash resistant, so it's ok to be out in the rain with it.
Functions and Conclusions
The first screen you come up to shows you what day it is of the week, the Date (MM/DD format) the Time in the center and if it's AM or PM.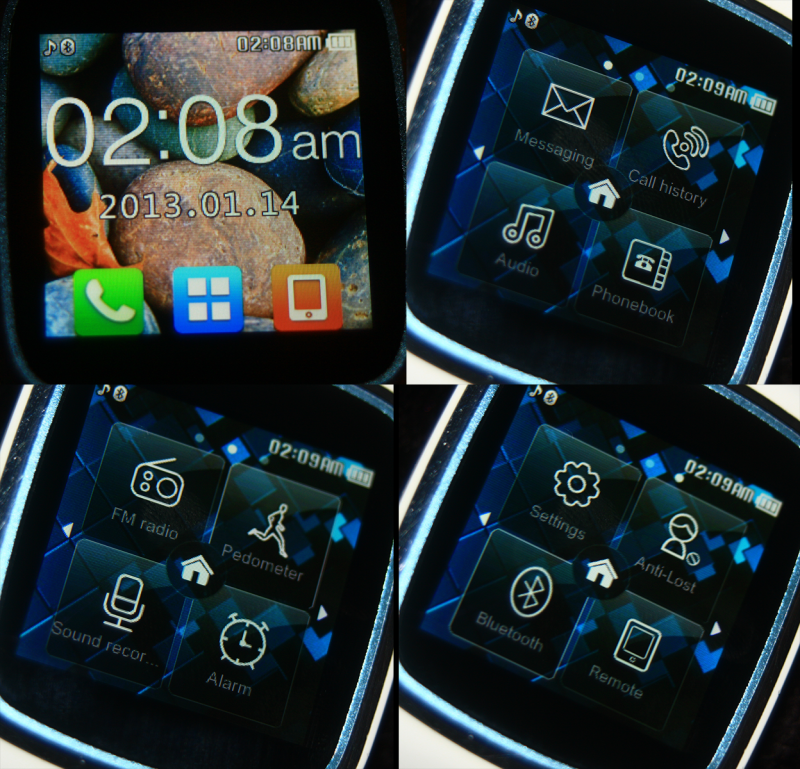 The next screen by pressing the 'select' button, brings you to the main screen. Top left shoes a music note indicating that sound is on (I have yet to find an option to turn the sound off) and bluetooth, to let you know that the bluetooth is on (You can turn it off)
Top right; shoes Time and battery life.
Mid screen; Time and Date.
Bottom screen; Call button, Option button, and Phonebook.

By clicking the Middle button, I call it the More Options, you go side scroll, left or right, to other options on the phone.
The first screens shows;
Messages: These are your text messages. Just like in your phone you have, write message, inbox, drafts, and templates. Yes you can type on this itty bitty watch.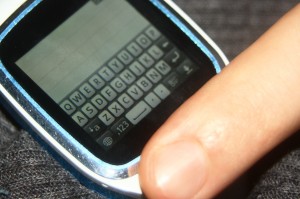 Call History: Shows your most recent call history that you've made from your phone, Calling and being called.
Audio: You can play whatever music you have stored on your phone. (Very VERY low sound)
PhoneBook: Shows all your current contacts. You have the option to either CALL or SEND MESSAGE. Nothing more.
Next Screen;
FM Radio: It tells me to "Plug in headphones" but, there aren't any headphone in on the watch it self, tried it on the phone, but still nothing.
Pedometer: Extremely sensitive, I just shifted and it read it as a step, I dont recommend use this function on this watch as an everyday pedometer.
Sounder Recorder: Not Horrible recording, but it would be in the 'Low Quality' category.
Alarm: It isn't as loud as it needs to be for a proper alarm, but for light sleepers it'd be perfect. It has 5 different alarm sounds, as well as if you have a file recorded you can use that as well.
Last Screen;
Settings:
Watch settings; You can set the home city, manually change the time and date as well as the format, and decide for daylight savings on or off. Language selection. Preferred Input method, how you'd like your onscreen keyboard setup with different languages as well. Handwriting setting, Pen Speed and Pen Color. Misc. Settings which is to control the LCD Backlight, brightness and how long to stay on.
Display Settings; Wallpaper you can choose from 1 of 4 that they have or use your own. Watch Face you can decide how you want it to look like, or if you dont want it, you can turn it off (The first screen when you first press the power on button), Power on Display, switch between 1 of 5 animations or add your own. Power off Display, 1 of 5 animations or add your own. And a Show Time and Date, on or off.
Restore Settings; a factory reset option.
Anti Lost: Gives you the option of either ON or OFF. It lets you know when you've disconnected from your phone if you've walked away from it while wearing the watch.
Bluetooth: Turn on or off your bluetooth on the watch, as well as if it's on you can make it invisible or visible, also you can rename it to whatever you like.
Remote: Weather, Gmail, Email, Schedule, Facebook, Twitter. It Provides these options, suppose to be able to choose one of these and pop up on your phone screen. But, at the moment it does nothing.
In Conclusion:
I do NOT recommend this watch in it's current state. It make it's a fine watch to tell time, but as to everything else, it needs lots of touch ups, fixes and possible a new look to be able to do some of the function on this watch as well as an application for both Android and IOS Apple.